Commercial alarms (or business alarms) are very similar to home alarms at the start up level. Commercial alarms are very expandable to cater to bigger buildings with more areas requiring protection and growing businesses that will need additional areas protected as they expand in the future.
Commercial alarms can be "partitioned" which means different sections of a building or business can be can be armed / disarmed independently.
For example, factory shift workers who may start work earlier than the inwards goods or office staff can disarm the factory while the other unoccupied areas remain fully armed. While each area can be operated independently there is an overriding master control available as well. All partitioned areas can be included within your professional alarm monitoring.
Commercial/ business alarms can also provide access Control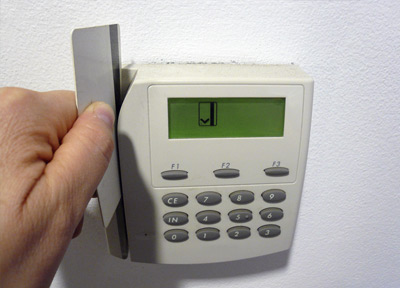 This means main entry doors can only be opened only by authorised personal via a code or proximity swipe card. This access control can be set up to work full time or just for after hours. This is ideal for situations where during the working day customers use the same door they will need convenient free entry. This can be set up to automatically switch on and off at selected times.
When your access control system is on, all authorised entries are logged in the alarms memory so if you need to know who came in after hours or was first to open up, this information is readily available to the mastercode holder.
FIRE and SMOKE detection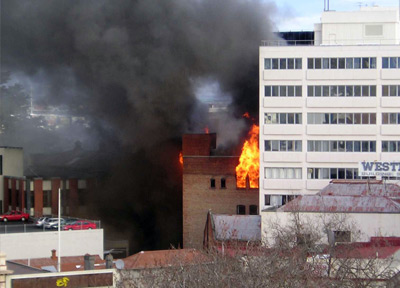 Many larger businesses will have an independent dedicated fire sprinkler system which can then be simply linked to the security alarm so the alarm will report fire activation to the monitoring company and fire service automatically.
For smaller or lower fire risk businesses without an expensive dedicated fire system, adding alarm system supervised mains powered smoke detectors will provide that same early warning to the monitoring company of an impending fire risk.
Commercial alarm monitoring
Monitoring is very important after hours protection. Not only does ensure that the alarm is on after hours every night as well as you receiving immediate notification of any alarm activation or alarm fault. Security will jump into action by sending a security guard and / or reporting to relevant company personnel. The monitoring company will also report any unusual after hours entries… Great for peace of mind both for you and your insurance company. Read out more about our commercial alarm monitoring options.