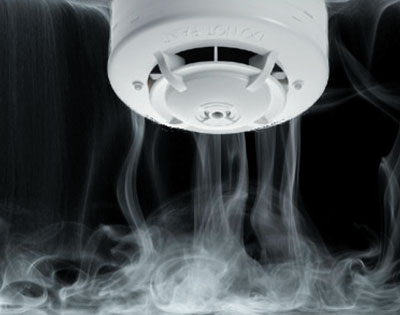 We all know I'm sure that smoke detectors  are in the first instant our night time noses. Our sense of smell goes to sleep with us however our sense of  hearing does not!
When the smoke detector picks up on smoke " ions " in the air it activates and makes a siren sound perfectly pitched to attract our hearings attention so we wake and get out alive.
Smoke detectors are either traditional battery powered or  mains connected with battery back up.
Battery Powered Smoke Detectors
The downside of the battery smoke detector is it needs battery replacement from time to time, a simple task in itself if you can reach them. But how often do we hear that the old battery has been removed but was not replaced? Weeks then go by without nighttime protection putting lives at risk.
Battery operated smoke detectors can only alert occupants in the house, unfortunately the sound won't be heard by neighbours nor can they alert you if you are away from your home.
Hardwired Smoke Detectors
Photo electric smoke detection
Auto draft compensation
Easy maintenance, no batteries, removable smoke chamber
The huge advantage of the mains powered alarm supervised hardwired smoke detector is of course that they don't require a battery that you need to replace, ever! It will always be live always on duty.
In Addition, hardwired smoke detectors automatically resetting so if activated by something as simple and non threatening as burning toast, the will sound the siren for 11 seconds then switch off and then test the air again. If smoke ions are still present in the air it will activate again and the alarms, your main alarm sirens will also sound which will alert neighbours. If you have alarm monitoring, the alarm will contact the monitoring company to inform of the smoke detectors activation. They can then  immediately alert fire brigade.  If you are away which could mean the difference of coming home to a fire damaged room as opposed to a fully burnt out shell.
Smoke Detector Location
There are building code regulations governing the location of smoke detectors in new buildings, and while this can vary in commercial situations the general residential  dwelling  rule is a smoke detector must be located within 3 metres of a bedroom door and at least one per level.
HEAT DETECTORS & CO2 Gas DETECTORS are also available which are often used in place of smoke detectors  where there is a high level of dust,  odourless gas risk or fumes in the air.
Contact Garrison Alarms today to permanently protect your property and occupants from fire risks.We offer a free onsite survey and quote for the best protection solution for your property.